ISDN switch-off is inevitable. Currently, there is a need to find an appropriate alternative. All-IP is a  substitute. VoIP is a stable, cost-effective way in the telco
telephone industry. Though mobile communication should also be considered. Especially when IoT devices can be used and connected with the data transmission where reliability and safety play the most important role.
What is ISDN?
Integrated Services Digital Network, or ISDN, is a technology allowing the transmission of digital signals, usually voice and data over telephone copper wires. Beginning in the 1990s, the technology gained widespread use in Germany and 12.78 million subscribers were provided ISDN.
There are two variants of ISDN: Basic Rate Interface (BRI) and Primary Rate Interface (PRI). When using an automatic telephone station, initiation of both variants is possible. BRI provides only two bearer channels, while PRI provides 30 bearer channels. A bearer channel in ISDN is a channel for data transmission. Either voice or data (fax, the internet, etc.) can be transmitted through it.
Advantages of digitalization were first of all higher data rates and the number of additional channels, alongside the improved quality of sound. Several phone numbers were also assigned to the telephone. Moreover, there is an opportunity to use IoT devices in the emergency power mode. In this case, the current is provided by the telephone station. Even in the event of a power failure, IoT device communication, especially an emergency call, is possible.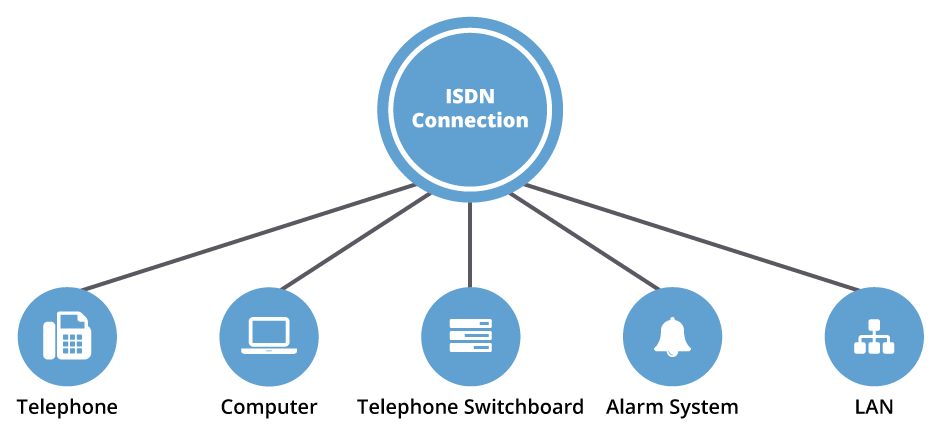 When will be ISDN switch-off?
Many European providers have announced that ISDN switch-off will appear by the end of 2018. Due to high costs, they declared termination of the contracts as early as 2015. Just a few providers including Vodafone (until 2022), reported they still want to support ISDN during the transition period. Alongside private clients, more and more corporate clients are currently being involved.
What is the principle of VoIP operation?
The telephone industry is currently making the transition from ISDN to voice over IP (VoIP). The voice is transmitted in digitalized form through ISDN can be transferred the same way over the intranet or internet. In this case, the same connection is usually used as it was used for the internet before.
Also, the transmission of data is often challenging, especially when it comes to the shift from such process management as signaling devices (protection of facilities, emergency calls), elevators, outdated points-of-sale systems and so on.
Depending on the size of an enterprise, the costs may exceed the amount of a thousand Euro if the IP equipment requires change over to the applied software. Furthermore, there is another problem: the systems operating through VoIP are often not reliable enough.
What are VoIP's advantages and disadvantages?
Among its advantages is simple extensibility through additional channels. These channels may often be connected without lag time, At ISDN, a new PRI with 30 channels each should be connected every time through a phone provider on a paid basis. So the access fee here is significantly higher than at SIP.
With the development of IP technologies, noise susceptibility also increases. Failures during a phone connection are seldom, but they often take place at the internet connection due to the higher degree of complexity; SIP connects additional stratum to the already complicated structure. Additional servers, which may break down, require it. This may have a negative effect on the stability of the operation and obviously decreases it.
What are the other alternatives for ISDN switch-off?
Advantages
Disadvantages
Telephony (voice)
VoIP

Cheaper than ISDN
Simple to extend
Applicable with any internet connection

Requires internet connection

Mobile communication
Telephony (Optional services:
fax, alarm systems)
Internet services (e.g., fax)

Reliability comparable with that of a telephone urban net

Quality varies enormously depending on the provider
Requires internet connection

VoIP

Outdated hardware can be further used
Cheaper than ISDN
Simple to extend
Applicable with any internet connection

The problems often arise because of the used data compression
Requires internet connection

Small data volume/higher availability
Standard mobile communication contract

High costs are often at small data volumes
Requires coverage area

IoT device with multi-network SIM Card for M2M

Not bound to location
Very profitable at small data rates
High failover thanks to different networks

Expensive at higher data volumes
Requires coverage area (of any network)

Reliable internet access

Depending on location, high data rates, and unlimited plans are possible

High access fee
Bound to location

High data volumes
Standard mobile communication contract

Not bound to location
At high data volumes, better price per Gb

High costs are often at small data volumes
Requires coverage area

Reliable internet access

Depending on location, high data rates, and unlimited plans are possible

High access fee
Bound to location
IoT devices with multi-network SIM card
Mobile communication for data transmission services is always of a greater interest, especially in the time of IoT when we connect more and more devices to the internet. These devices often require a permanent internet connection. Besides, there are already 3G-connections available, which is faster than ISDN.
Due to the losses of several providers in 2016, it became clear that it may make sense to use multi-network SIM cards for IoT, at which the strongest network — regardless of provider — can be used, especially for performing critical tasks.
Specific example of ISDN switch-off

Imagine you work in a retail network having 35 branches all over Germany. Up to this moment, you used ISDN for transmission of the payment data. This channel gives the best fit to your sensitive data because ISDN being a Point-to-Point Protocol ensures better protection from wiretapping and fraud than the transmission of signals through the internet. And now you switch the communication to all IP. As a rule, there is no problem with for at data transmission, though if there is any internet failure, your clients will be unable to pay with their cards. Beyond that, from now on you would like to ensure higher reliability at data transmission.
In both cases, the mobile network is a good solution. It may serve as an alternative for data transmission while there is no opportunity to use the internet. When choosing a provider you should also consider that you have 35 locations. In order not to check what network is available at each location and not to conclude contracts with different providers, you should choose a provider who offers multi-network SIM cards which may use any available network.
If you want to get the highest level of reliability with this new solution, you should choose the provider of your SIM cards according to the corresponding features. Some providers transmit data, not through public service networks, but develop a private network, the access to which is possible only over VPN-tunnel. As a result this makes the transmission of the data more reliable.
Conclusion
In conclusion ISDN is a technology that currently outlives its usefulness. Therewith the phone providers are going to switch their clients over to all-IP technology. Sooner or later enterprises will have to consider an alternative to their ISDN connection. In many cases, the transmission of data through IP can be a good solution, although many systems (alarm system, emergency calls, etc.) require other data transmission channels. If there is a need for ensuring a reliable, permanent connection to a system, mobile networks can provide the best option.
In conclusion, please, consider the following eight tips for the ISDN switch-off:
Set all the requirements. Here also think about nice-to-haves as well as the functions which would be practical but not obligatorily necessary.
Model different options and consider which problems could emerge in each case.
Think of which (probably additional) components, hardware, and necessary experience the considered options would require.
Find the alternative to ISDN which meets the majority of the requirements and comes at a reasonable price.
Choose a suitable provider for your IoT project.
Test the new system and then switch to the new IoT solution. Make sure that in a case of a fault scenario you can return to your previous one.
Check whether you should or can implement additional configurations for IoT, which was impossible before.
Terminate your previous ISDN contract before ISDN switch-off.
———
Always the latest news — Follow me on Twitter: @kary_key
The original article appeared on http://internetofthingsagenda.techtarget.com/blog/IoT-Agenda/ISDN-switch-off-2018-IoT-as-a-suitable-alternative